Friday, July 04, 2003
From the newspaper The Reykjavik Grapevine, June 27th 2003.


Dear Grapevine
Where are all the foreign cars in Iceland?
A week ago I brought my car to Iceland for the summer on the ferry from Shetland. Since arrival in Iceland I've not seen a single foreign registration. My theory is that there's a big hole somewhere that swallows foreign cars, and that I had better keep a sharp look-out!
My car seems to fscinate Icelanders. Frequently in car parks and garages I find Icelanders staring at my car, first at the GB sticker and the funny foreign number, then at the steering wheel on the right-hand side. When I parked my car for five minutes in Hveragsdi I returned to find a dozen children looking in the windows.
If you are friving a British registered car and you happen to see my British registerd white Mercedes somewhere in Iceland, please do toot to say hello.

Graeme Davis
United Kingdom


Dear Dr Davis
Nice to get some response, your theory is indeed right. Grapevine research department has led an expedition to confirm your suspicion. The research team managed to find out that this black hole you refer to is indeed in Snaefellsnes, simultaneously we have also managed to find scientific proof for Jules Verne's never before proven theory that there is a hole in Snaefellsjokull which leads to the centre of the earth. So what happens is that when driving you suddenly begin to feel a little gravitational pull. Gradually you will end up in Snaefellsnes and your foreign car will be sent to the centre of the earth. Our centre of the earth correspondent George T Owen says that is beginning to create a bit of a problem in the centre of the earth, the reason is that there are no roads there and cars are therefore useless.

Reykjavik Grapevine

Thursday, July 03, 2003
Still having a few problems with photos and archives on Blogger - the company keep posting notices thanking bloggers for their patience! But in the meantime a few photos HERE
Krysuvik1.jpg
Krysuvik2.jpg
Krysuvik3.jpg
Oxarafoss.jpg
Thingvellir.jpg
MumDad Iceland.jpg
I´m keeping my fingers crossed that they will get the archive working soon!
Reception this evening at the University's Sigurdur Nordals Institute for a group of graduate students and academics from American universities, mainly Berkeley, taking a Modern Icelandic language course. Some interesting people there. Good company, and worth a few hours of starvation!
Monday, June 30, 2003
WEEKEND
Met my parents at Keflavik airport Friday evening. Iceland Express arrived on-time after what I gather was a respectable flight from London. Good to know that the bargain airlines can deliver a good service.
Had a very touristy weekend - Kerith, Geysir, Gullfoss, Thinvellir. These major tourist draws are understandably the Icelandic Golden Circle - each one is in its own way unbeatable. At Geysir, Strokkur goes off every seven or eight minutes, and to a height of about 70 feet. Also came across the power station for Reykjavik, which is a geothermal bore-hole in the mountains. The plumes of steam and acres of steaming ground make it a James Bond film set. In its way as remarkable as the tourist sites.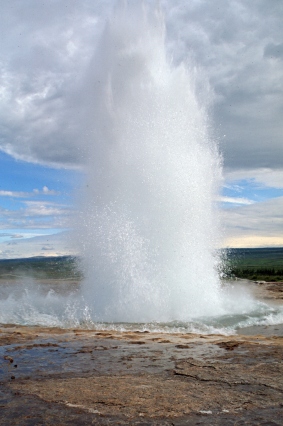 So now it's Monday and I'm back in the library ....
Thanks to PH for this snippet - Iceland was voted top destination by Observer newspaper readers which devoted much of its travel supplement to it. I'm not surprised - but not too many tourists please.